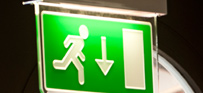 Following breaches of fire safety regulations a landlord from Bury has been fined £17,000 and orders to pay Greater Manchester Fire and Rescue Service £2,223 in costs and a £120 victim surcharge following a hearing on June 2 2014 at Bury and Rochdale Magistrates Court.
Mr Khan pleaded guilty of five offences under the Regulatory Reform (Fire Safety) Order 2005 at a house of multiple occupancy in Bury.
Amongst the breaches
Combustibles stored in the hall an don landings, which would have helped a fire take hold and spread quicker
The fire alarm was faulty and switched off
A battery operated smoke detector was situated incorrectly and could not be heard in the bedsits
Holes in the ceilings meant fire would have spread quicker
No fire doors were present
A lack of emergency lighting
Apparently Mr Khan had not realised the house was classified as a house of multiple occupancy, but he did accept that the property was inadequate.
Mr Khan was fined £3,400 for each offence.  The property has since had works carried out.
GMFRS commented "The cost of making this property safe would have been a fraction of the cost Mr Khan has to pay now, and he has a criminal record"
This surely must come as a warning to landlords and premises owners that ignorance of the Reform Order will no longer be tolerated as a reason or excuse for failings.