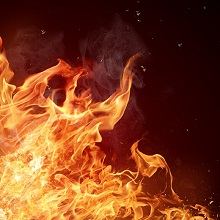 According to research recently published by the Government the number of fires attended in the UK by the authorities are 'noticeably fewer' in 2012/2013.
487,000 fires or false alarms were attended in the is period, as opposed to 586,00 in the previous period Рa significant reduction of 17%. Furthermore these figures show a reduction of almost 50% than 10 years ago.
Of the 487,00 attendances fires accounted for 192,600 (29% lower than last year) and false alarms made up the rest – which is 6% lower.
The number of fatalities at 350 is the lowest its has been in the last 50 years.
Most of the fires happened in domestic premises; 22,500 incidents occurred in premises such as shops, pubs and cafes and industrial manufacturing premises classed in the report as other buildings.
These figures although reducing show the importance of having a suitable means of warning and detection installed.  As ever it is imperative that they are in full working order Рa maintained fire alarm system is less likely to false alarm.
They also confirm the importance of having an escape plan and a suitable Fire Risk Assessment in place.
2nd June 2014