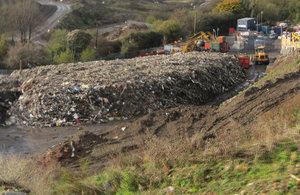 With fires being a big concern in the fire safety industry presently, we feel any prosecution for firms breaching any licensing or safety conditions should be highlighted in the hope that others will take notice and improve conditions on their sites.
Oakham Environmental Waste and Recycling Centre ran a skip business and waste transfer station in Kingswinford in the West Midlands. The Planning Inspectorate have dismissed their appeal against the revocation of their Environmental Permit by the Environment agency.
Since January 2011 when the licence was transferred to them a number of permit condition breaches were found, and the Environment Agency revoked the licence in May 2013.  Breaches included; no technically competent manager, waste tipped and stored outside the appropriate bunkers and wast tipped outside the permit area. The Company failed to comply with a series of enforcement notices and due to lack of action from them a number of waste fires occurred.
Following the appeal rejection, the Company now has six weeks in which to remove all waste from the Midlands site.
The Environment Agency is cracking down on poorly performing sites by requiring operators to cease operations if they are not competent to run the sites properly.
More information can be found on source: Defra